About Our Pastor


Rev. R.E. Robinson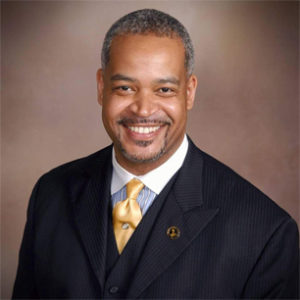 Pastor Regan Eugene Robinson is the second son of three children born to (the late) Winfred J. Robinson and Vicki L. Brown-Robinson of Hammond, Indiana.
Pastor Robinson is a product of the Hammond Public School system graduating from Hammond High with honors. Simultaneously, he enlisted in the US Army. During his senior year in High School, he answered the divine call to the gospel ministry.
Pastor Robinson then sought to cultivate his spiritual gifts through Academic concentration by enrolling in the American Baptist Theological Seminary Extension Program of East Chicago, Indiana. On December 27, 1996, he was licensed by the New Community Baptist Church of Hammond, Indiana. Shortly after, the Lord opened another door of opportunity that would allow Pastor Robinson to enter into full-time ministry by working full-time on the church staff at the Messiah Missionary Baptist Church of Indianapolis, Indiana as the Youth Minister. While serving as Youth Minister, Pastor Robinson also attended Indiana University Purdue University of Indianapolis (IUPUI), majoring in Sociology and Philosophy and graduating with honors in 2001. Immediately thereafter, Pastor Robinson was promoted to Assistant Pastor and Business Administrator of the Messiah Church and continued his education, securing his MBA from Indiana Wesleyan University in 2003. He received a Doctorate of Divinity from St. Thomas Christian University in 2018.
He returned to Northwest Indiana in 2012 and served as the Assistant Pastor of St. Timothy Community Church. In August of 2015, Rev. Robinson was called to serve as the Senior Pastor of St. John Baptist Church of Gary, IN, where he continues to encourage the people of God and serve this present age with both insight and inspiration.
Pastor Robinson is a member of Silver Life Member of the Gary Branch of the NAACP, Kappa Alpha Psi Fraternity, Inc., Fidelity Lodge #55 PHA and the Baptist Minister Conference of Gary & Vicinity. He also sits on several boards in his community including The Urban League, The Gary Literacy Coalition, The Northwest Indiana Reinvestment Alliance, The Northwest Indiana Leadership Council, Ecumenical Council of Northwest Indiana and The Love for Jalyn Foundation.
Pastor Robinson is married to the former ReNae T. Johnson and they have two children, Reid Anthony and Riley James.